Programming Led By Licensed/Certified Professional Educators, Therapists & Horsemen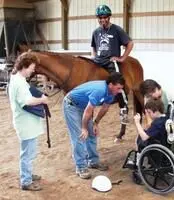 You place your physical and emotional safety in the hands of the professionals who guide you on a journey of personal or professional growth. It makes sense to choose wisely.
What sets Rhythms Of Hope apart is the fact its programs are developed by professional educators who understand how to adapt to meet the needs and learning styles of each individual, even when working with large groups. This foundation of experience as professional educators is made stronger by their studies at Edgewood College where Nikki earned her MS as a systems-focused psychotherapist and Bob focused on the needs of students with emotional or behavioral challenges.
Bob and Nikki Cohen-Wichner have 30+ years of experience helping others learn about horses and 20+ years of experience helping others grow critical life skills through relationships with nature and animals.
From the early 1980s thru the shift toward therapeutic programming made in 2001, their students/clients have ranged from physically or mentally challenged persons whose smiles stretch beyond the sunset over accomplishments that most people would take for granted, to students who have earned National Champion titles through their guidance.
Since Healing Horsemanship's beginning in 2001, Bob & Nikki's work in the area of nature-based, animal-assisted treatment has become a national model for applying "Best Practices" in the fields of Equine Facilitated Psychotherapy and Animal Assisted Therapy. Bob and Nikki use standards set by PATH International (Professional Association of Therapeutic Horsemanship; formerly known as NARHA) in programming at their farm, The Forever Farm, and refer to standards set by other national organizations such as Pet Partners® when facilitating workshops in hopes of increasing the credibility of nature-based/animal-assisted educational and therapeutic programming.
Nikki Cohen-Wichner, LMFT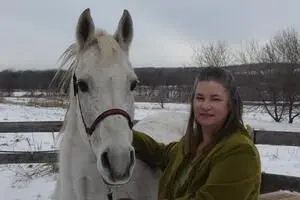 Nikki finds true joy in helping others connect with their authentic selves through a relationship with animals and nature. She believes fully in the power each person has to make positive change, especially when guided by an unbiased professional on their personal journey. Although she's not certified as a life coach, her approach to therapy has been built on a solid foundation of coaching principles developed during 20+ years of coaching competitive horsemanship students from local thru national championships. She encourages people to strive for their authentic personal best with a belief that if one is at peace with oneself, all relationships will evolve on a healthier path.
Nikki is a Licensed Marriage & Family Therapist and lifelong horsewoman who believes in lifelong learning. She is an IATP Certified Trauma Clinician who has been working in trauma-focused private practice since 2001 when she and Bob first developed nature-based, animal-assisted programming at their farm. In 2016 Nikki completed an intensive program in Medical Family Therapy at the University of Rochester in New York to support her increased involvement with individuals and families whose emotional and mental health has been impacted by chronic and/or terminal health conditions. She feels honored to be given opportunities to be a supportive member of end-of-life teams within families that struggle with the impact of past trauma on their family.
As a WI DPI Licensed Professional Educator Nikki worked nearly a decade as an Agriscience teacher before earning her master's degree from Edgewood College in Marriage & Family Therapy. She served as an Intern Clinician on a team studying the Forgiveness Model of Couple Therapy developed by Robert Enright (UW-Madison) and Peter Fabian (Edgewood College), Nikki developed her own deeply authentic approach to working with couples who struggle to forgive. Relationship-focused activities with her animal colleagues hold power and hope for healing wounded relationships at times when direct communication seems too difficult.
She also worked as an Intern, then spent five years as an independent Program Director for a local agency that sent clients for nature-based/animal-assisted group therapy at The Forever Farm. These groups specialized in the treatment of children, families, and adult survivors affected by child sexual abuse.
Since 2001 she has been director of her own full-time private clinical practice based at The Forever Farm. During that time she has become a preferred provider of intensive therapy for many youth and families affected by the effects of trauma.
A lifelong horseman and animal enthusiast, Nikki has had several personal experiences from which she's drawn her belief in the power of animals to heal the wounds left following painful, life-changing experiences. Her animal friends listened at a time when she couldn't trust anyone else with her true feelings; which she credits with saving her.
Bob Cohen-Wichner, WI DPI Licensed Professional Educator
Bob has a true gift for engaging even the most disengaged youth by bringing a sense of humor and deep humility to his work, whether he's teaching in one of three Dane County's school districts as a substitute teacher or as a co-facilitator of groups here at The Forever Farm or in his individual sessions with youth who come here for HOPE Day Programs.
Bob graduated from Edgewood College with a Bachelor of Science degree in Elementary Education with an Environmental Studies emphasis. He completed all but one course and student teaching required for licensure as a Cross Categorical Special Education teacher with an emphasis in Emotional-Behavioral Disorders. In support of his work with students at The Forever Farm Bob earned his Alternative Education license in 2014 via studies at Concordia University,
Before Covid Bob taught 1st grade at St Ann's in Stoughton. This position followed a decade working as a Substitute Teacher in three area districts where he was highly respected for his capacity to bring peace to classrooms where student behaviors challenged less experienced educators. Bob is working solely here on the farm during the pandemic so he often has more flexibility than Nikki's schedule allows.
Bob has earned the respect of his colleagues, many of whom are parents who openly express feelings similar to Ms. Elizabeth Breuer, an Educational Assistant at Fox Prairie Elementary School in Stoughton, WI: "I heartily recommend Bob Cohen-Wichner. I have worked as an Educational Assistant in the Stoughton Area School District for 14 years and have seen many classroom teachers and substitute teachers… "Mr. C-W" as the students call him, stands out as a gifted teacher. …With his gentle manner and engaging style, children instantly listen to him. Mr. Cohen-Wichner can engage even the most difficult students and the learning environment he creates through listening and focusing on each child's needs creates a rapport in which those students are engaged in learning in a way I do not normally see with them…. Mr. Cohen-Wichner is the kind of teacher we all wish our own children would have, he is inspiring, fun, kind, calm, responsible, and engaging."
Britni Cohen-Wichner, WI DPI Licensed Professional Educator
Britni has been teaching therapeutic horsemanship since she was in middle school so choosing a career as a teacher came naturally. She loves serving our local community by teaching late afternoon weekday & Saturday sessions in Therapeutic Horsemanship at The Forever Farm. Britni works full-time for the Albany School District. Her full-time public school teaching career deepens her capacity to serve the unique individual needs of the people we serve here at our farm.
Britni's first two years of professional teaching have presented significant challenges as she joined students, parents, and colleagues in navigating the many significant changes inherent to schooling during the pandemic. She has brought true grace and dedication to the emotional health of her students to her role as the 5-12 Band Director and 9-12 Choir Director for the 2020-21 school year as well as her role as K-12 General Music/Choir Teacher.
This capacity to find grace and student-focused dedication stems from the unique preparation she had in college. Britni graduated from Wartburg College in Waverly, IA with a Bachelor of Music in Music Education and Music Therapy. In addition to the extensive pre-licensure training inherent to all teacher preparation programs (k-12 field experience in 6 schools + k-12 student teaching), Britni completed an intensive internship providing music therapy clinical services to patients with a wide range of diagnoses in the inpatient mental health unit at Abbott Northwestern Hospital in Minneapolis. This was her second hospital inpatient mental health unit; she did a pre-graduate Music Therapy practicum at Allen Memorial Hospital in Waterloo, IA.
The highest honor we can pay this special member of our staff is to share what I overheard a client say to another client during the 2020 Farm Friends social-emotional group program, "Britni is so cool. I love how she helps me feel safe by enforcing safety rules while still finding ways for me to feel like I have the freedom to enjoy myself." This is all we could hope for when serving young people during a pandemic.